FIRST MEETING OF THE JOINT WORKING GROUP ON AGRICULTURAL MATTERS BETWEEN NAMIBIA AND ARGENTINA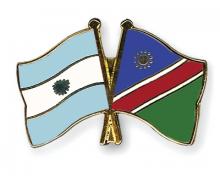 Between the15th and 29th November 2012 it was held the First Meeting of the Joint Working Group on Agriculture between Namibia and Argentina in the City of Buenos Aires. Its constitution was envisaged in Article 5 of the Memorandum of Understanding between the Ministry Of Agriculture, Aquifer Resources and Forestry of the Republic of Namibia and the Ministry of Agriculture, Livestock and Fisheries of the Republic of Argentina on the 27th September 2012, for the formulation of a Cooperative Action Program, according to the priority interests of the parts.
In this context, the aforementioned Program was signed on November 19, agreeing to work together on the following:
1. Cooperation in the areas of yields increase in Agricultural Production in Namibia (Direct Seeding). Objective: To transfer knowledge for the application of this technology.
2. Cooperation on plant health: Implementation of the International Standard for Phytosanitary Measures N ° 15. Phytosanitary programs, cooperation and exchange of information and experiences in official pest control programs. Specific Surveillance System. Control of forest pests.
3. Cooperation in animal health: Strategies for disease control and eradication (vaccination, surveillance, training, movement control of animals and products). Epidemiological studies for the annual revalidation of sanitary status. Registration system of producers, animal health activities (serological sampling, vaccinations). Movement of livestock, design of Internal Barriers Control Strategies (between two zones of different health status). Cooperation between neighboring countries for border work. Diagnostic techniques for surveillance and vaccine coverage. Vaccine control.
4. Cooperation in joint research projects: Add value in fruits and vegetables
5. Cooperation in building institutional capacities: Support for the study and analysis of the organizational structure of NARI (equivalent to INTA). Training in laboratory accreditation. Cooperation on environmental risk assessment and food safety of genetically modified organisms.
On November 19 twelve members of the Namibian Provinces were invited by CAFMA (Chamber of Manufacturers of Agricultural Machinery) to visit agricultural machinery companies in the southern The Provinces of Santa Fe and Cordoba. They also received an in-field explanation from INTA, on direct seeding, water management and conservation techniques.
On November 27, the delegation toured the facilities of Biogénesis Bagó, interested in developing an associative relationship that allows them to access the vaccines to promote the health aspects of that country.
The activities involved in the work plan will begin to be developed in March 2013, and Argentina will be able to position itself with its technology and knowledge in Namibia, thus completing its insertion in the countries that make up the Regional Group of Southern Africa.