GENERAL DATA
Official Name: República Argentina (Argentine Republic)
Capital City: Ciudad Autónoma de Buenos Aires (Autonomous City of Buenos Aires)
Surface Area: 3.8 million km2 (2.8 million km2 of land and 969 thousand km2 of the Antarctic continent and the southern islands)
Maritime Coastline: 4,725 km
Population: 40.1 million
Population Growth: 1.01% per year
Literacy rate: 98%
Life Expectancy at birth: 76 Years
Gross Domestic Product (GDP) Per Capita (PPP): US$ 22 500
Currency: Argentine Peso (AR $)
Political Division: 23 autonomous provinces and the Autonomous City of Buenos Aires
Political System: Republican, representative and federal with three branches of government. Executive (President), Legislative (Congress) and Judiciary (Supreme and lower courts)
Fiscal Year: January - December
Measurement System: Metric
Time Zone: GMT -03: 00
Official Language: Spanish
President: Ing. Mauricio Macri
_____________________________________________________________________________
GEOGRAPHICAL DATA
Argentina in the World
Climate and natural resources
Due to the expanse of its territory and topographical diversity, Argentina boasts a wide range of climates and landscapes as well as significant biodiversity. The varied features of its many climates—tropical, cold, temperate, arid—are present in a diversity of landscapes and terrains. Ice fields, arid deserts, mountain ranges, plateaus, plains, steppe vegetation, forests and jungles provide a platform for the development of an extremely broad selection of crops and agricultural activities throughout the country. Arid lands and climes extend from northwest to southeast (in the Puna region and the Andes mountain range in the provinces of Catamarca, La Rioja and San Juan down to the Andean foothills in Patagonia). More temperate conditions are found in the provinces of Buenos Aires, part of Entre Ríos, the south and center of Santa Fe, east of Córdoba and northwest of La Pampa; while sub-tropical, humid climates characterize the provinces of Misiones, Corrientes, the north of Entre Ríos, the east of the Chaqueña region and the Andean foothills in Jujuy and Salta. Dry, hot temperatures can be found in the western Chaqueña region, and damp, cold temperatures in the wetlands of the Patagonian Andes throughout the southwest of Argentina.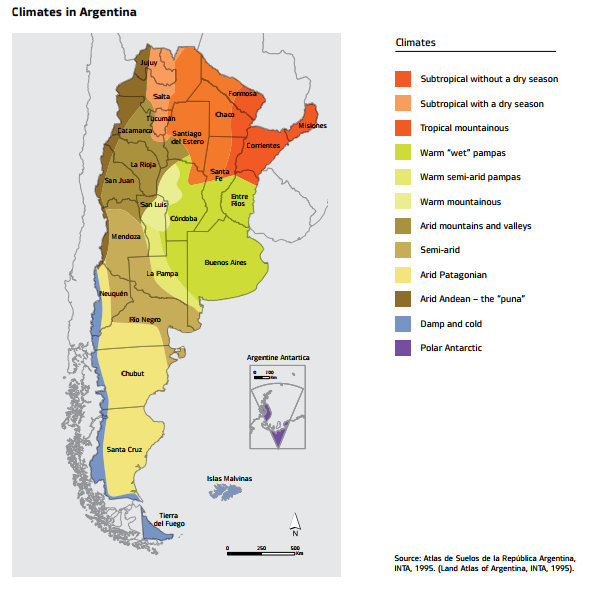 Argentina is one of the countries with the greatest abundance and diversity of natural resources in the world. The vast expanse of extraordinarily fertile agricultural lands, in particular those in the seemingly endless stretches of the Pampa Húmeda, cover a surface area of some 180 million hectares, placing Argentina among the world's top food producers. Abundant forest resources cover much of northeast of the country and western Patagonia. The mineral-rich Andes mountain range contains mining deposits of gold, silver, zinc, copper, oil, manganese, lithium, uranium and sulfur throughout its 4,500 kilometers. Argentina is also endowed with extensive aquifers and sea and fishing resources, along its 4,725 km of Atlantic coastline and a network of rivers, streams and inland waterways, 11,000 km of which can be navigated. Both the Argentine Sea and the continental platform are rich in fishing and hydrocarbon resources. Argentina actively promotes sustainable development and protection of its natural resources, for example through the voluntary reduction of its carbon dioxide emissions.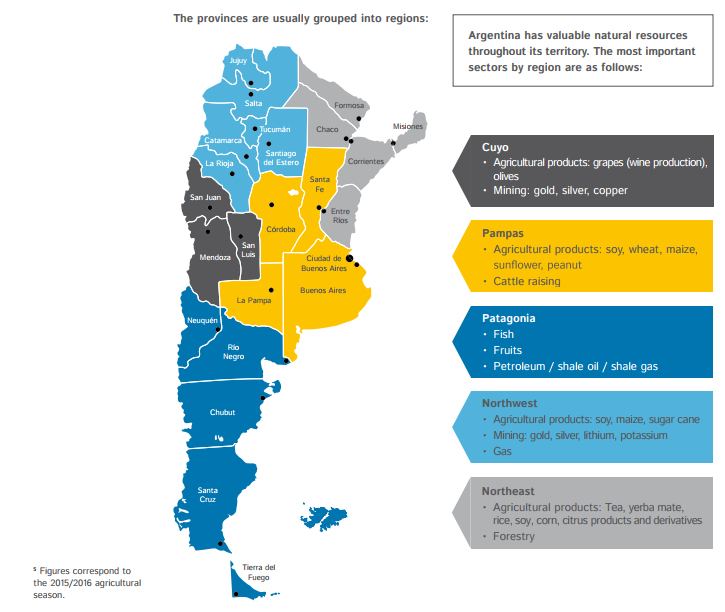 Argentina's natural heritage draws visitors from all over the world. There are many highlights. Iguazú Falls plunging 80 meters in the midst of rainforests on the frontier with Brazil is a vast horseshoe-shaped cataract of 260 different waterfalls declared a World Natural Heritage Site by UNESCO in 1984. The Guaraní Aquifer, shared by Argentina, Brazil, Paraguay and Uruguay, is one of the world's largest fresh water reserves. Aconcagua at 6,959 meters is the highest mountain in the western hemisphere. Perito Moreno glacier, another UNESCO World Natural Heritage Site, is one of the most impressive of its kind in the world.
_____________________________________________________________________________
POPULATION AND DEMOGRAPHICS DATA
Argentina was forged as a nation open to immigration, building a society whose wealth was matched by its cultural diversity. From the mid-19th century to the 1950s, wave upon wave of European immigrants, mostly Spanish and Italian, joined by groups from the Middle East, arrived to Argentina's shores. More recent migratory currents—less numerous than past ones—originate in neighboring countries and, to a lesser extent, from Asia, in particular China and Korea. Some native populations observe their ancient rituals and traditions to this day. Argentina's population is 40.5 million (49% men and 51% women). Its demographic profile is relatively young, with a median age of 30.3. Its population growth rate is 0.98% with an average of 2.16 births per woman. Life expectancy at birth is 76 years. The Human Development Index (HDI) published by the United Nations Development Program (UNDP) places Argentina among the countries in the high human development category. It ranks second in Latin America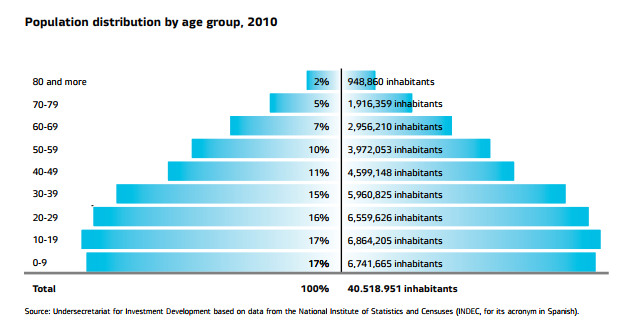 Argentina has a high rate of urbanization with 92% of the population living in metropolitan areas. Population density is relatively low and varies considerably throughout the country's different regions. The average density for mainland Argentina is 14.5 inhabitants per km2 although this ranges from 15,292 inhabitants per km2 in the City of Buenos Aires, to 1 per km2 in the province of Santa Cruz. 23 Almost one third of the Argentine population lives in Greater Buenos Aires, which includes the City of Buenos Aires and the 24 districts that make up the surrounding suburbs. The main urban centres include Buenos Aires, Rosario, Mendoza, Tucumán, La Plata and Mar del Plata.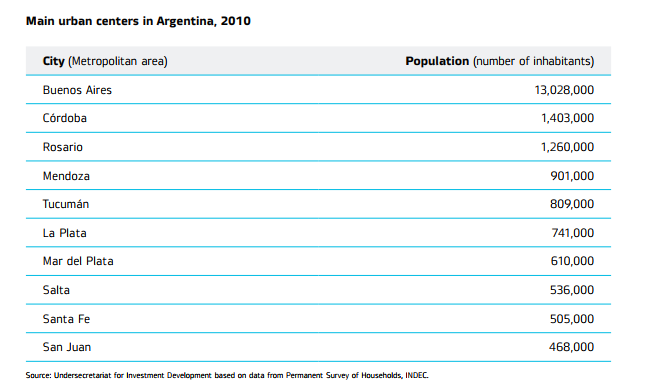 _____________________________________________________________________________
EDUCATION DATA
In Argentina, education from elementary through high school is compulsory and free of charge. The country has one of the highest rates of literacy (98%) and school-life expectancy (15.6 years) in Latin America, on a par with Spain, Italy and Israel. The National Education Law establishes that the consolidated budget allotted for education by the national government, provinces and the City of Buenos Aires may be no less than 6% of GDP. Over 1.6 million students attend the 107 public and private universities throughout Argentina. It is the leading country in Latin America in terms of the number of students entering higher education programs each year. Its gross tertiary enrollment rate of 68% is the highest in the region and is comparable to that of many developed countries. The number of students, graduates and post-graduates, grows annually, contributing to a highly trained population specialized in a range of different disciplines. Some 95,000 graduates from tertiary education establishments and over 7,600 post-graduates from all over the country enter the job market every year.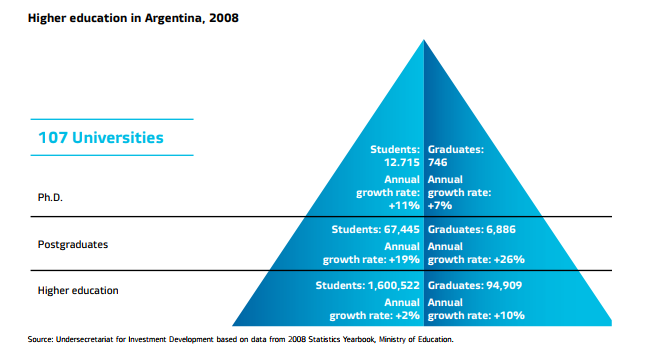 The development of science and technology is also a policy priority, reflected by the creation in 2007 of the Ministry of Science, Technology and Productive Innovation (MINCyT, for its acronym in Spanish) and by the increase in the levels of public investment in these areas. 26 D oi n g B usi n ess i n A rge n ti n a – An Inv estor ' s G uide Argentina has prestigious institutions, companies and public and private universities dedicated to the development of science and technology; many have over fifty years of expertise and international renown. Some of the best known are the National Council for Scientific and Technical Research (CONICET, for its acronym in Spanish); the National Atomic Energy Commission (CNEA, for its acronym in Spanish); INVAP, a company specializing in nuclear and space technology; the National Institutes for Agricultural and Industrial Technology (INTA and INTI, respectively, for their acronyms in Spanish); and the Leloir and Favaloro Institutes. The country also boasts a roster of well-known scientists and researchers recognized by leading institutions around the world. Among them are the Nobel Prize laureates Bernardo Houssay (Physiology and Medicine, 1947), Luis Leloir (Chemistry, 1970), and César Milstein (Physiology and Medicine, 1984), making Argentina the Latin American country with the highest number of Nobel prizes in sciences, ranking fourth among developing countries.
_____________________________________________________________________________
FOREIGN RELATIONS
Argentina is an open economy integrated into world markets. The country, one of two representing South America at the G20, is a founding member of the World Trade Organization (WTO) and the Inter-American Development Bank (IDB). It has been a member of the International Monetary Fund (IMF) and the World Bank since 1956 and has taken part in UN Peacekeeping Operations for over 35 years. Argentina is also an active member of the Union of South American Nations (UNASUR, for its acronym in Spanish) and in 2011 will preside the G77. 28 D oi n g B usi n ess i n A rge n ti n a – An Inv estor ' s G uide Argentina is a full member of the Southern Common Market (MERCOSUR, for its acronym in Spanish), a customs union with Brazil, Paraguay and Uruguay. Chile and Bolivia, associate members of MERCOSUR, grant member countries preferential access to their markets. Venezuela is in the process of becoming a full member of MERCOSUR. MERCOSUR members negotiate trade agreements jointly. Agreements negotiated with other Latin American nations have created a free trade area in South America and have liberalized trade with Mexico. MERCOSUR has a Preferential Trade Agreement (PTA) with India; a PTA with the Southern African Customs Union (SACU); a Free Trade Agreement (FTA) with Israel and a FTA with Egypt. MERCOSUR is currently negotiating an Association Agreement with the European Union (EU) and a FTA with Jordan.
_____________________________________________________________________________
ECONOMIC STRUCTURE
Argentina has a highly diversified economy. The primary sector is internationally renowned for its high productivity levels and use of advanced technologies. Key sectors in Argentina's developed industrial base are agribusiness, automobiles, pharmaceuticals, chemicals and petrochemicals, biotechnology and design manufacturing. The service sector is the largest contributor to total GDP, accounting for over 50% of the total.
Argentina is a leading producer of foodstuffs: the third worldwide producer of soybeans, soymeal, soybean (seed, meal and oil) and sorghum, the seventh largest producer of barley, and the twelfth producer of wheat.
Argentina boasts the world's fourth-biggest shale oil reserves, and the second-biggest shale gas reserves. Other valuable natural resources include gold, copper, lead, zinc, natural borates, bentonite, clays, and construction stone.
The leading industrial sectors in terms of gross value of production are: food processing, beverages, chemicals and pharmaceuticals, motor vehicles and auto parts, coke fuel, oil refining and nuclear fuel manufacturing.
With respect to services, sectors with the largest share in gross value added include wholesale, retail, and repairs; followed by transport and communications. The service sector leads the labor market as the largest job creator.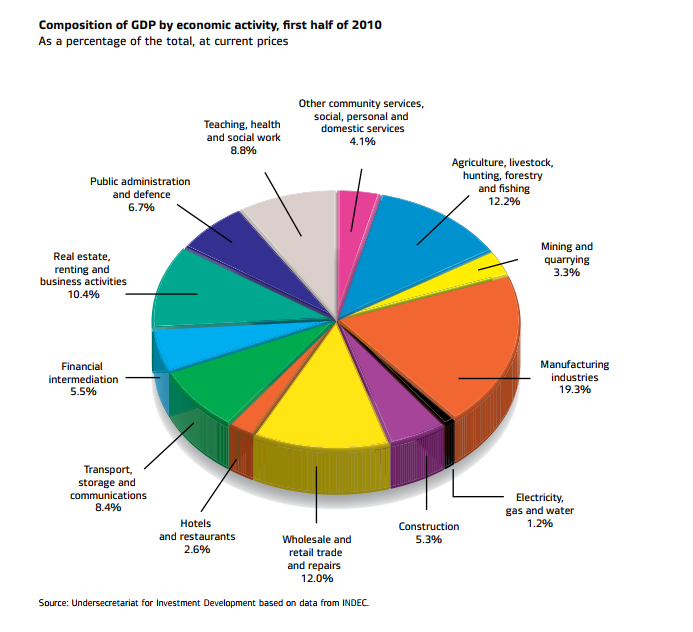 Argentina is Latin-America's 3rd largest economy in terms of Purchasing Power Parity. In 2015 its GDP reached USD 586 billion3 with GDP per capita at USD 13500 (USD 22,500 in PPP terms)4 . In the last 10 years (2005-2015) Argentina´s compound annual growth rate was 3.2%.